GREEN JACKET COMPETITION – THURS 25 NOVEMBER 2021 – END OF YEAR
STABLEFORD
45 points Brian Humphrey;
44 Phil Engelbrecht;
42 Garry Simpson;
41 Bruce Stewart, Gordon Smith;
40 James Holden, Geoff Williams, Roger Humphrey, Bruce Gibson;
39 Anton Hughes, Dave Burney, Rennie Young; 38 Bill Riordan, Seb Baker;
37 Ian Blunden, Allan Brown, Mike Tuohy; 36 Dave Matthews, Cam MacLeod, Stu Donald, Les McKay, Tim Adlam
TWO'S: Brian Humphrey (2), Anton Hughes (2), Seb Baker (2), Tony Boxall, James Holden, Garry Simpson, Stu Donald, Les Crate, Steve Lochhead, Cam MacLeod, Peter Loveridge, Russell Kane, Lloyd Evans
A great evening had by all to celebrate the end of the Green Jacket season for 2021.
Congratulations to Max Kinsey who won the Green Jacket for the 3rd year in a row.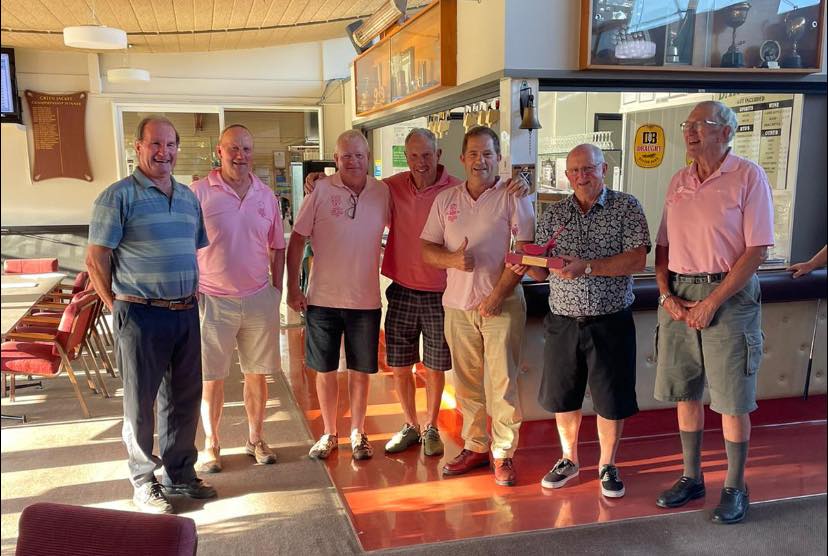 Pink ball champion Bruce Stewart with past winners Bruce Mckelvie, Frank Collier, Dave Matthews, Stru Jones, Pete Loveridge and Lloyd Evans.