Welcome to this week's edition of Shop News.
You can find us here on Facebook every Wednesday for the latest shop competition results, what's new in the shop and maybe a few tips along the way!
All comp prizes from now will be a value credited to your name on our computer system to be spent on any purchases in the shop (ie: you can grab a ball of your choice or save up your credit to purchase a larger item, it's entirely up to you). Please note: this credit can be used for product purchases only and not for the purchase of tournament/competition entry, membership or green fees.
Results for the week ending Sunday 12 December
Women – Wed 8 Dec (stableford)
Sharon Atkins 31 pts $14
Jill Shirkey 27 $10
Mixed 9 Holers Thursday 9 Dec (Net)
Don MacBeth 33 net $9
Gordon Piets 33 $9
Colin Waller 34 $6
Bob Dann 35 $6
Bob Walters 35 $6
Thursday Green Jacket 9 Dec (Stableford)
John Coleman 41 pts $25
Scott Worsley 39 $15
Mike Atkins 37 $10
Mike Tuohy 36 $5
Danny O'Connell 36 $5
Steve Lochhead 36 $5
Bruce Gibson 36 $5
Rob Lowry 36 $5
Steve Cox 36 $5
Two's
Mike Atkins 9th & 11th $12
Jeff Dickins 9th $6
Bruce Gibson 9th $6
NTP 2nd John Coleman $20
NTP 17th Tony Parkes $20
Friday Haggle 10 Dec (Stableford)
Peter Larkin 36 pts $10
Peter Thompson 36 $10
Don McPherson 35 $8
Ian Measey 33 $5
Saturday 11 Dec – Xmas Cheer
No shop comp
Sunday 12 Dec – She Loves Golf (9 hole stableford)
Not played
Sunday Haggle 12 Dec (Stableford)
Not played
SHOP XMAS HOURS
The Feilding Golf Shop will be closed
25 & 26 December and 1 & 2 January
Operating Hours during the Xmas & New Year period:
Mon 27 December to
Friday 31 December
9am to 4pm
Mon 3 January to
Friday 7 January
9am to 4pm
Normal operating hours resume
Saturday 8 January from 7am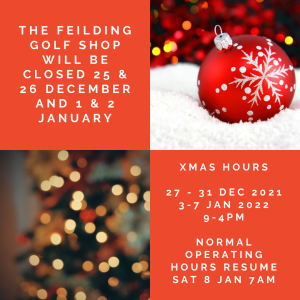 If you are unsure as to your needs, come and talk to either Lisa or Sharon – we are only too happy to help you out.
Good golfing!
Lisa and Sharon
Your friendly Feilding Golf Shop team